Does your Monday currently suck? Are your kids sick and crabby with winter colds? Are there expensive plumbers currently visiting your house or are you trying to teach unmotivated children to learn how to read?
Yet did you get the Eucharist last Sunday? Do you know who is waiting to enter into your heart on Christmas Day?
If so, the world needs you. The world needs you to decorate your face with a beautiful smile to match the holy love lodged deep in your heart--despite all the agitation and turmoil around you.
Here's some proof. As I was researching acappella groups on You Tube I found a clip from my alma mater, Smith College (a college of all women). They are singing this depressing song about lost love INSIDE my old Protestant Church, Helen Hills Hills* Chapel.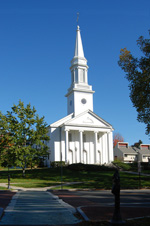 The place where I went to pray and feel close to Jesus all of the time in the late 90s is now hosting the words in 2010:
"This is the way you left me,
I'm not pretending.
No hope, no love, no glory,
No Happy Ending.
This is the way that we love,
Like it's forever.
Then live the rest of our life,
But not together
."
The college dating scene without a concept of true love and sacramental marriage --truly SUCKS!
Lets cover all the petty grievances we have this Advent with out imperfect lives, children, spouses and ourselves this season with a smile. In the "big picture" we have it all! We know the One who truly, truly loves us.
There are a lot of people looking for Hope this Season. Lets give them a reason to come home to the Catholic Church for Christmas.
Smiffenpoofs - "Happy Ending" (Mika) - 2010
(No the double Hills Hills is not a typo. Turns out Helen Hills, Married a boy also named Hills, but when she left the money for the Smith College chapel she wanted it clear that her maiden name was included in the official chapel name. I always that this needless "double name" for my beloved chapel was a bit of a sign that feminism got a little carried away at my dear old college)