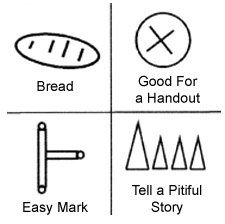 "Hobo" Signs, 1930s, United States of America
Daily Mass Reading, Matthew 25: 31-46
"When the Son of man comes in his glory, and all the angels with him, then he will sit on his glorious throne. Before him will be gathered all the nations, and he will separate them one from another as a shepherd separates the sheep from the goats, and he will place the sheep at his right hand, but the goats at the left. Then the King will say to those at his right hand, `Come, O blessed of my Father, inherit the kingdom prepared for you from the foundation of the world; for I was hungry and you gave me food, I was thirsty and you gave me drink, I was a stranger and you welcomed me, I was naked and you clothed me, I was sick and you visited me, I was in prison and you came to me.' Then the righteous will answer him, `Lord, when did we see thee hungry and feed thee, or thirsty and give thee drink? And when did we see thee a stranger and welcome thee, or naked and clothe thee? And when did we see thee sick or in prison and visit thee?' And the King will answer them, `Truly, I say to you, as you did it to one of the least of these my brethren, you did it to me.' Then he will say to those at his left hand, `Depart from me, you cursed, into the eternal fire prepared for the devil and his angels;for I was hungry and you gave me no food, I was thirsty and you gave me no drink, I was a stranger and you did not welcome me, naked and you did not clothe me, sick and in prison and you did not visit me.'"
My husband and I dragged three sleepy kids to 6:30 AM Mass this morning. Instead of the gentle homily on the 150 Jubilee of Our Lady of Lourdes, Father John's homily was a bit more fire and brimstone. "Where are you going do be on that day?" he thundered. "Will you be with the sheep or with the goats?"
In years past, I've considered myself a community service junkie. My career as a poverty lawyer brought me into daily contact with Christ's own. For extra measure, I loaded up on the various volunteer tasks and social justice committees. So when I hear the "what have you done to serve for Christ lately," I'd mentally run down my latest task list and relax in my church pew.
My life changed dramatically in past four years. First, I kicked off the "do good/ feel good" career with baby number two. Now, with baby number three, my life is stretched so thin that every act of charity pinches. To sing in the church choir, I must skimp on sleep one night each week and my husband must mind three small kids alone in a church pew each Sunday. My husband's rare Friday night Knight's meetings, mean that I still feel the burn of going 17 hours of straight "mommy duty" well into the weekend. Meanwhile, our thin budget makes coming up with cash for the Archdiocese appeal a challenge.
For the first time this morning, I didn't have a long list of tangible acts of charity to fall back upon during Father John's passionate homily. It felt uncomfortable. I felt exposed. I would have probably fallen even more into despair if I hadn't recently read the encouraging words from "Story of a Soul." (I've recently figured out that my maturity level in regards to all spiritual matters about matches the physical development of my 9 month-old daughters, Maria.)
As Father John relentless questions grew more heated "Have you given Jesus your cloak? Have you visited our Savior in prison? Where will you be on that terrible Judgment day?" I looked at my little daughter and said a silent "No, I have not met the needs of the poor in any recent memory. Ave Maria! You are just going to have to carrying me on that awful day, because I'm to spiritually weak and pitiful to walk on my own yet!" Asking for help from our Blessed Mother soothed me in the moment.
The question kept coming back to me all day. In my life current life as an exhausted mother, where does charity to Christ poor fit in?
I can't go back to the dizzy, emotional life as a poverty lawyer. In this season of my life, I can't sign up for a dozen charity committees. At the same time, caring for three little ones doesn't exempt me from living out Christ's teachings. Nor would I even want it to! I find that my heart is split open as a new mother. Things that I intellectually cared about before: the homelessness of Katrina victims, the poverty in the inner-city, the spiritual dryness of many of my generation who where raised without faith; now fill my heart with overflowing compassion.
I do not have an answer yet. There is no "action plan for Lenten charity" in my household. However, the faint stirrings of an idea came to me tonight.
I remembered the words of my grandmother, who died of heart failure two years ago. Grandma Rupp described how her mother, Meade Buehrer, fed a long string of "hobos" during the 1930s. My great-grandmother evidently kept a pie pan next to the stove filled with extra servings of whatever food was currently cooking for dinner. Almost every night, an unknown male stranger would appear at her back door requesting scraps of food. Great-grandmother would say a few words, and hand over a fully prepared meal. My grandmother's job was to retrieve the pie pan from the back yard after the stranger was done with his supper.
My grandmother said, "I never went more than two nights without having to go to the back yard in the dark to retrieve a dirty pie pan left behind by a hobo. It took me a few years, but I noticed that none of the other neighbor kids had to do this. I don't know why the hobos always choose our house or how they always knew that my mother was both kind and a good cook."
After her death, I stumbled on a likely explanation. "Hobos" had special signs that they left behind on the fence posts of kind women, signifying "good for a handout." I'm sure the steady stream of out-of-work men coming through Archbold, Ohio did not come to my great-grandmother's home by chance. There must have been some sort of sign left on her backyard gate. Imagine having such a mark outside your door! (Notice that the upper left-hand "hobo" mark also looks like the Eucharist, what a coincidence!)
This Lent, I'm praying to receive my own mark of charity. Like my great-grandmothers mark, it will have to be small and humble. A small deed done with a grateful heart, folded into the middle of my many mothering tasks.
St. Martin of Tours, St. Bernadette, hear our prayer to increase in deeds of charity.