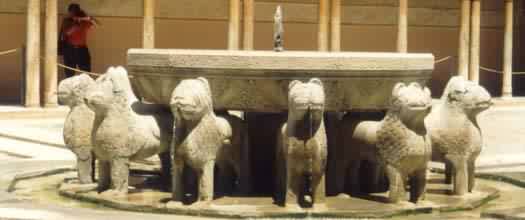 Fountain at Patio de los Leones, Moors, 8th Century
Granada, Spain
photo credit: Alexander Home Page
"In a note in the Catechism of the Council of Trent, pastors are urged to "compare the Eucharist to a fountain and the other sacraments to rivulets. For the Holy Eucharist is truly and necessarily to be called the fountain of all graces, containing, as it does, after an admirable manner, the fountain itself of celestial gifts and graces, and the Author of all the Sacraments, Christ Our Lord, from whom, as from its source, is derived whatever of goodness and perfection the other sacraments possess." (Divine Mercy Message Booklet, pg 37).
In Arab design, the highlight of a garden is always its fountain. For a desert culture, water was a source of wealth and pleasure. This ancient fountain consists of a center pool surrounding by twelve lions. Water enters the center well and exits through an ring in each lion's mouth.
To apply the image suggested by the Council of Trent, image a similar fountain with six lions instead of twelve. Instead of the Eucharist existing as merely one of seven sacraments, it should be considered the "highest" sacrament or the center well-spring of grace. Each of the other sacraments, baptism, holy orders, marriage, etc, are like the lion which help center and pour out the Eucharist into our lives.
Prayer: Merciful Savior transform our lives to more closely match our holy vocation in life and help us smoothly pour our the grace of our love and mercy into the world. Saint Faustina pray for us.